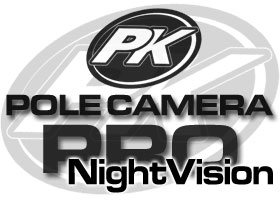 PK Pro NightVision
For
- Bat Surveys and Wildlife Checks
- Attic / Loft and Internal Building Inspections
- Internal Chimney Inspections
- Inspection of tanks & vessels with no natural light
Bat Survey Camera and Wildlife Check
The wireless PK NightVision pole camera is the ideal tool for the study of bats and other wildlife while working in darkness. The camera will give you a clear picture of nests or other areas of interest without disturbing the animals by using infrared nightvision which negates the need to shine a light. The system can be used for live viewing or left recording over night whereby the results can be watched back later on video for the purposes of counting or alike.
Attic / Loft and Internal Building Inspections
The PK Pro NV camera can be used to quickly check attics or lofts by simply pushing the pole up into the loft space. The NightVision feature means that a dark area appears lit when viewed using the system and areas of interest such as beams can be clearly seen. Photographs or videos can then be taken from the live images on screen. Useful for any property survey or building inspection that may have poorly lit or hard to reach areas.
Inspection of tanks & vessels with no natural light
Many tanks or vessels can be difficult to access and also dangerous due to residues that remain internally. The PK NV system can be used to access these areas safely and to produce clear images from the darkness within. The swivel head on the camera can be used to give a view from almost any angle so even parts hidden beside the access hatch for example can can be inspected.
Other useful points
The pole inspection camera system can be used vertically to see both above and below ground level and can also be used horizontally if required (please allow for a little flex in the pole due if using horizontally). The PK system can be faster and much safer than using ladders or a cherry picker and using pole camera survey technology can also enhance the image of your business and lead to increased profitability thanks to the time savings it offers. Both the images and videos created with the system can be time and date stamped which is often useful for insurance purposes.
Color images - The PK NV system will show full colour images when used in bright or daylight conditions. When used in darkness and in NightVision mode the system shows black and white images. The system will automatically change between the two depending on what light is available.
| | | |
| --- | --- | --- |
| | | |
| The inspection camera works in full colour when used in good light just like our standard PK Pro Camera. | | In low light conditions or darkness the NV Camera will automatically switch to B/W image for clarity. |
System Overview
Also read the overview on our different Pole Camera Systems here